I have been trying to find a way to make one of my favorite dishes healthier. I knew I needed to remove the breading and the frying for sure. I also wanted to make this a quick dish for dinner during the week so I took some advantages from the store.
Healthy Eggplant Parmesan
Ingredients
1 eggplant sliced into rounds and then quartered
1 box of whole wheat rigatoni, cooked and drained
1 cup of shredded organic mozzarella
2 TBSP of olive oil
Sauce
1 jar of store bought marinara
1 clove of garlic
1/2 cup parmesan cheese
4 leaves of basil
Place 2 TBSP of olive oil in a skillet. Heat and add in the eggplant. Turn eggplant quickly to lightly coat with olive oil. Eggplant acts like a sponge and soaks up the olive oil and gets mushy if you let it sit so make sure all pieces get coated as soon as they go in the pan.
Cook until translucent and lightly browned.
In a blender mix all of the ingredients for the sauce until garlic and basil are thoroughly mixed in.

Spray a 9x13 baking dish with vegetable cooking spray. Mix one ladle full of the sauce into the pasta to keep it moist. Place the pasta on the bottom of the pan.
Layer with the eggplant and then the sauce.

Top the dish with the shredded cheese.

Bake in a preheated 350 degree oven for 25 minutes--making sure cheese is golden and bubbly.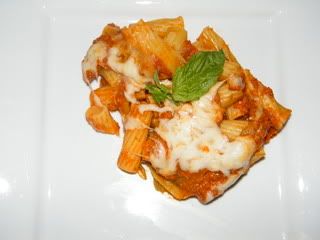 Alternative:
Use cooked lasagna noodles. Cut the eggplant lengthwise to fit the noodles and layer the dish as follows: noodles, eggplant, sauce, noodles, eggplant, sauce, cheese. Same baking time. Enjoy!