Let's be honest and just call this "comfort food week". :-) I really don't eat or make potatoes a lot much to mrboilermakers dislike. I just really don't think of adding a starch to the meal often, I am normally focused on protein and veggie.
For this recipe I started out old school. I have in my possession a very old copy of the "red and white bible"--you know the one. The Betty Crocker Red and White checked cookbook. This one was my mothers that I remember her head always being in when I was little. After she passed away, I made sure that it came home with me. Much to my dismay, this recipe that I remember from childhood sounded nasty. It had hardly any seasoning and you were supposed to put american cheese slices on top? EWWW. It also was going to take almost 2 hours to cook!!! Not in this kitchen.
I basically had to scratch my old school plan and make my own. I did use the general idea to get started (that counts for something). I microwaved the potatoes to cook them through (saving 30 minutes) and I added lots of sharp cheddar and garlic to give these potatoes some flavor!
On a side note: do you ever get nervous spelling potato? I always feel I am one step away from a Dan Quayle moment. Must be the Indiana girl in me. :-)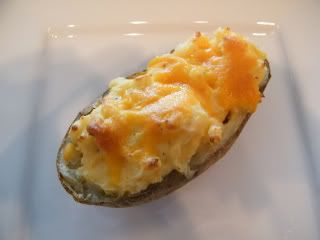 Garlic Cheddar Twice Baked Potatoes
3-4 large russet potatoes, scrubbed clean
1 80z. container of sour cream
1 16 oz. package of shredded sharp cheddar--or your favorite cheese
2 cloves of garlic, minced
kosher salt
pepper
Preheat oven to 450 degrees. Poke the potatoes with a fork and cook according to your microwave directions. I cooked three and it took 14 minutes on high power. Let sit for 5 minutes afterward--they will continue cooking as they cool. There is NO reason to bake the potatoes in the oven for this recipe. They will be baked later and get all the same flavor.
Cut potatoes in half and scoop out the insides with a spoon.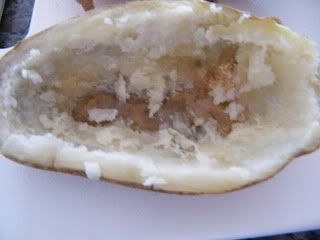 Make sure to leave some flesh on the sides to hold the shape of the potato and create a boat type shape as pictured below.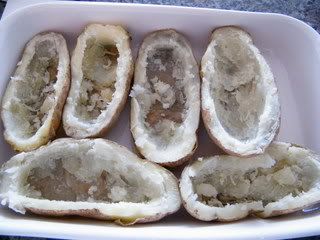 In an electric mixer combine: insides of potatoes, sour cream, 1 cup of the sharp cheddar, minced garlic and a healthy dose of salt and pepper.
Mix on medium speed for about 2-3 minutes--until all lumps are gone and mix is fully combined. Remember these are white potatoes--you will need a good amount of S&P to provide good flavor. Taste for seasoning.
Line a baking pan with the potato shells. Scoop the filling into each shell. They will be heaping and that is good. I do not use a pastry bag and tip for this step. This is rustic home cooking and I feel like the piping tip makes these look like you took them out of the freezer section and turns this simple dish into a messy process. (To each his own though and feel free to pipe away if you so desire) Liberally sprinkle the potatoes with the remainder of the cheddar.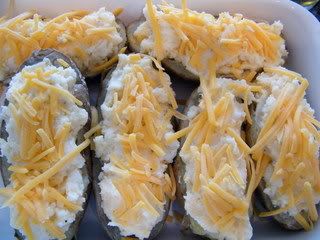 Bake for 20-25 minutes until cheese is melted and potatoes have some golden brown color.
The garlic gives these potatoes such a delicious flavor and adds so much. The sharp cheddar really adds a bite and the sour cream just finishes it off. I love these things.
Alternative: If you are a meat eater--make these "loaded" like a potato skin by sprinkling with crip bacon crumbles and chives. You could even add a small dollop of sour cream. ENJOY!