I KNOW, I KNOW...this blog is about healthy eating with less fat. In my defense, I am pregnant and I haven't made these brownies the entire time (that is over 23 weeks people) and I gave in to the craving.
I am also divulging one of my best kept secret recipes. This is by far my most requested recipe by family and friends. It is my "go to" recipe when I have to bring a dessert to anything. Homemade brownies seem so special and only you and I will know how easy they really are! The best part...only ONE bowl to clean up. You heard me correctly...homemade brownies while only dirtying one bowl!
If you are not a fan of turtle brownies: This is a great base for any favorite brownie. They are great plain sprinkled with powdered sugar, frosted, you name it. Get creative!
Chocolate Turtle Brownies
1 12 oz. package of Ghiardelli semi-sweet chips (bittersweet are great too), divided in half
1 stick of real butter, cut into small pieces
3 large eggs
1 1/4 cup all-purpose flour
1 cup granulated sugar
1/4 tsp. baking soda
2 tsp. vanilla extract (I usually am very generous with this and go for a full TBSP)
1/2 cup chopped walnuts or pecans
1 small jar of Caramel ice cream topping
Preheat oven to 350 and spray 9x13 baking pan
Melt 1 cup of the chocolate and butter in a heavy sauce pan over low heat. Stir until melted.
Remove from heat and stir in the eggs. Add: flour, sugar, baking soda and vanilla extract. Stir all ingredients until fully blended.
Spread batter in pan and sprinkle with walnuts and remaining chips.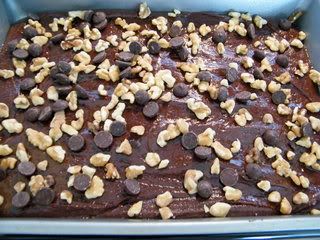 Bake 20 minutes--tooth pick will be a little sticky
Drizzle with caramel sauce and let cool in pan. I typically drizzle with a little more sauce when serving.
To make this better than any brownie dessert you have had at a restaurant--serve warm topped with a scoop of vanilla bean ice cream. You will thank me for this recipe!