I was going to call this Ginger Glazed but it ended up so flavorful I changed it to "Asian Glazed". I make all of my marinades in gallon size storage bags so that it is easy to mix, marinade and clean up. This recipe would be great with rice and black beans too. We are trying to balance our protein and carbs so I chose the mixed green salad to get some fresh veggies in. Let's talk about the salad. You know when you get those delicious lightly coated greens as a side at your favorite brunch place? That is the taste I was going for with this simple dressing. Fresh taste that doesn't overpower the simple greens. I used balsamic vinegar since there was balsamic in the marinade. This dressing would also be great with red wine vinegar. I will tell you...this meal is going to be a summer go to for me. Bailey loved the fish and even asked for seconds!!
One tip on the fresh ginger: use it! I learned a great trick from a favorite cooking show host. Peel the ginger when you get it home and store it in a freezer bag in the freezer. When you need it cut of a piece and grate. The ginger will last for months in the freezer and is actually so much easier to grate and use when frozen!
I will be reusing several of the ingredients in this dish throughout the week as a cost saver. I am not talking staple items like soy sauce or oil--I mean the fresh ingredients that you need to use during the week or they go bad. I am using: ginger in the thai chicken, green onions in the peanut noodles, and spring greens for another salad.
Salmon Ingredients:
4 (4oz) Alaska Salmon Fillets
1/2 cup canola oil
4 T soy sauce
4 T balsamic vinegar
2 green onions, finely chopped
1 T brown sugar
1 T honey
2 cloves garlic, minced
1 inch ginger, grated
1 tsp red pepper flakes
Salt and pepper both sides of the fish.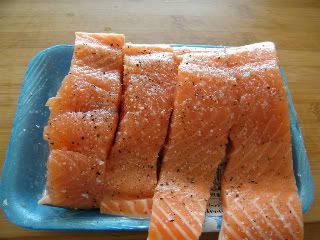 In a gallon size storage bag--mix together all other ingredients. Close bag and shake to combine. Open bag and put fish in. Reseal and mix to coat fish.
Put in fridge for minimum 2 hours to 4 hours. Remove fish from marinade and either grill or broil until done. About 4-5 minutes on each side. I broiled it and the skin was crispy and the marinade was great.
Simple Balsamic Mixed Greens
1/3 cup balsamic vinegar
1/3 cup extra virgin olive oil
2 T honey
Small amount of salt and pepper to taste
1 bag washed mixed baby greens
Whisk together the vinegar, oil, honey and salt and pepper. Pour a small amount at a time over the greens until coated but not soaked. Serve immediately. Would be great with some sliced strawberries and almonds mixed in to make it a more substantial salad.