One of my favorite restaurant salads is the Black and Blue salad. It is the worst one for you by far! Beef, high fat creamy dressing all the cheese plus blue cheese. I knew I had to make a better for you version and I have succeeded. You will not miss the meat when you bite into these warm and hearty portabellos!
"Black" and Blue Salad
Ingredients
Portabello mushroom, sliced in strips (one bello per person)
Romaine hearts, chopped (4-5 full leaves per person)
tomato, diced (1/2 tomato per person)
avocado, diced (1/2 per person)
Blue cheese
Grill seasoning
Cooking spray
Your favorite low fat or fat free vinaigrette (I am using my fav: Whole Foods Brand Organic Blueberry vinaigrette)
Spray the bellos with cooking spray and grill seasoning and saute until reduced and a nice dark brown color. The grill seasoning is key. It gives the hearty bellos more of the steak flavor. I promise--you will not miss the beef!
While cooking load up plates with greens, avocado, tomato, and a sprinkle of blue cheese.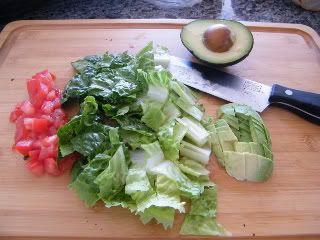 Top with the hot bellos and your favorite dressing. Serve immediately. You want the bellos to be hot and steamy!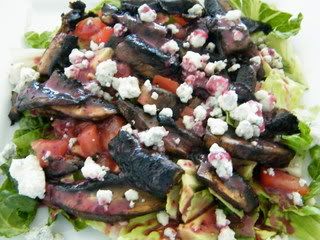 It is just that simple to make a restaurant quality dinner salad in minutes that is delicious and so much better for you! Enjoy!